General Hotel Information
Prices are based upon Double/Double
(2 persons to a room; King; Queen/Queen (2 persons to a room)
Crowne Plaza: $136.00 plus tax
Hyatt: = $136.00 plus tax
Hilton: = $136.00 plus tax
Hampton Inn: = $136.00 plus tax
Red Roof: = $121.00 plus tax
Drury Inn: = $136.00 plus tax
(reserved for Districts 14-20 only)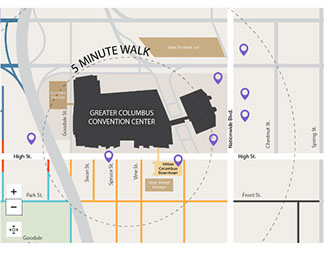 Final date to make hotel reservations through the online system June 25, 2019
Hotel Registration Information
The last date to make a hotel reservation

will be 11:59pm PST on June 24, 2019, or until each hotel sells out, whichever is first.
Any changes to hotel reservations will be made through the same online system that the reservation was made until June 25, 2019. Between June 26, 2019 and July 11, 2019 no changes will be allowed as the reservations will be processed by the hotels. Any changes made after this date will need to be made directly with the hotel.
The system allows only one room to be reserved per registered attendee, multiple room reservations by one person will not be allowed by the system.
No deposit will be required to make a hotel reservation, however a credit card is needed in order to secure a hotel reservation. It will not be charged prior to arrival, and is used only to guarantee the reservation.
Hotel Cancellation Policy
Beginning June 25 - July 10, 2019 No changes to reservations can be made.
Beginning July 11, 2019 all reservation cancellations must be made by calling the hotel directly at least 72 hours prior to your check-in date or the hotel will charge a penalty fee of one night's room and tax for failing to cancel on time. Hotel phone numbers will be posted to the site on or before July 11, 2019.